(1) Mega Motion MM4001 Lift Chair/Power Recliner in Java (Item #148972)
1 Available
Original Price $699.00
Sale Price $629.10 (After 10% Off Sale)

Stylish power recliner/lift chair features a plush biscuit-back design with cushioned arms. Power lift & recline mechanism allows you to recline to the perfect position & provides assistance standing/sitting if needed.
hEasy to reach side pockets on both sides
hIntegrated emergency battery backup
hHeavy-duty steel lift mechanism
h375 pound capacity
hBy Mega Motion
hMade in the USA.
All Items In This Collection: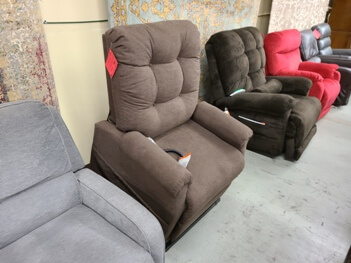 Mega Motion MM4001 Lift Chair/Power Recliner in Java
Original Price $699.00
Sale Price $629.10 (After 10% Off Sale)